STINGER Serie BMPI acciaio inox
STINGER Serie BMCU inox e carbonio
Questo prodotto, di nostra fabbricazione, viene realizzato in acciaio inox 316 lucidato a specchio o in carbonio, in 5 differenti taglie per imbarcazioni dai 27 ai 60 piedi.
Il bompresso è composto da due parti, il bompresso vero e proprio, che può essere rimosso sfilando una spina di blocco, per poi poter essere riposto in un gavone quando non viene usato; e l'attacco ad astuccio che rimane fissato al musone di prua e ancorato alla landa, quando è possibile, oppure fissato direttamente sul musone o alla coperta a seconda della barca su cui è installato.
Gold Service realizza l'attacco su misura per ogni tipo di barca.
Il contatto tra l'astuccio e il bompresso è realizzato con due boccole in Derlin in modo da preservare il bompresso da rigature e garantire un ancoraggio resistente nel punto di maggiore sollecitazione.
Questo tipo di bompresso è stato studiato per poter essere installato sulla barca senza inibire in alcun modo l'apertura del gavone ancora, come avviene invece per i modelli in alluminio o carbonio con attacco ad anello sulla prua e golfare a poppa del gavone.
Lo scopo di questa scelta è legata alla possibilità di lasciare il bompresso installato per lunghi periodi, particolarmente utile se si utilizzano frulloni da code "0″ o gennaker.
Il nostro bompresso, nella versione inox, viene realizzato inserendo una struttura in acciaio all'interno del tubo che permette di sopportare il 90% dei carichi e orizzontali e nella versione in carbonio, l'utilizzo di tubo a grossa cartella, questo ci ha dato modo di poter utilizzare tubi di minor diametro in modo da contenere il peso e ingombri e allo stesso tempo di realizzare un bompresso estremamente rigido che può essere utilizzato senza bisogno di briglie o ritenute.
Il bompresso Gold Service è un prodotto interamente realizzato a mano con saldature perfette e una estrema cura dei particolari, gli attacchi vengono disegnati a CAD e realizzati appositamente per ogni tipo di barca, la sporgenza del bompresso oltre la landa di prua è di circa 70/80 cm a seconda del modello e del posizionamento dell'attacco sul musone.
Questa distanza è sufficiente a garantire il passaggio del gennaker durante la strambata, è possibile però variare questa misura richiedendolo in fase d'ordine.
STINGER VIENE REALIZZATO SU MISURA PER OGNI TIPO DI BARCA, E' ORDINABILE ESCLUSIVAMENTE ATTRAVERSO QUESTO SITO E VIENE CONSEGNATO ENTRO 20gg DAL MOMENTO DELL'ORDINE
Per ordinare il bompresso inviate un e-mail a info@goldservicerigging.com con i vostri dati, il modello e anno della barca e il tipo di ancora installata
__________________________________________________________________________________________________
Price List UniBow – Stinger 2023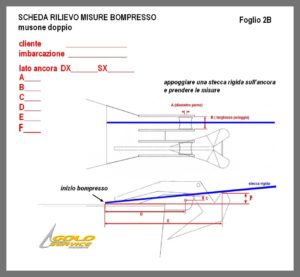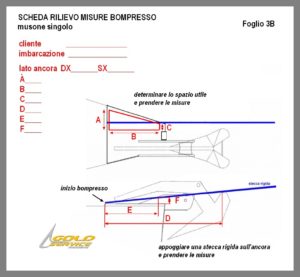 ---
STINGER BMPI Series stainless steel
STINGER BMCU stainless steel and carbon series
This product, manufactured by us, is made of mirror-polished 316 stainless steel or carbon, in 5 different sizes for boats from 27 to 60 feet.
The bowsprit is made up of two parts, the actual bowsprit, which can be removed by unhinging a locking pin, and then stored in a locker when not in use; and the box attachment that remains attached to the bow nose and anchored to the moor, when possible, or fixed directly on the nose or deck depending on the boat on which it is installed.
Gold Service realizes the tailor-made attack for every type of boat.
The contact between the case and the bowsprit is made with two Derlin bushings in order to preserve the bowsprit from scratches and ensure a resistant anchorage at the point of greatest stress.
This type of bowsprit has been designed to be installed on the boat without inhibiting in any way the opening of the anchor, as it happens instead for the models in aluminum or carbon with ring connection on the bow and pivot at the stern.
The purpose of this choice is related to the possibility of leaving the bowsprit installed for long periods, particularly useful if you use Furler from Code "0" or gennaker.
Our bowsprit, in the stainless steel version, is made by inserting a steel structure inside the tube that allows to bear 90% of the loads and horizontal and in the carbon version, the use of a big folder tube, this has given us so that smaller diameter tubes can be used to reduce weight and overall dimensions and at the same time to make an extremely rigid bowsprit that can be used without the need for bridles or retaining.
The bowsprit Gold Service is a product entirely made by hand with perfect welds and an extreme attention to detail, the attacks are designed to CAD and made specifically for each type of boat, the projection of the bowsprit over the bow is about 70 / 80 cm depending on the model and on the positioning of the attachment on the muzzle.
This distance is sufficient to guarantee the passage of the gennaker during the jibe, but it is possible to change this measure by requesting it during the order phase.
STINGER IS MADE TO MEASURE FOR EVERY KIND OF BOAT, IT IS ORDINABLE EXCLUSIVELY THROUGH THIS SITE AND IS DELIVERED WITHIN 20 DAYS FROM THE TIME OF THE ORDER
To order the bowsprit send an e-mail to info@goldservicerigging.com with your data, the model and year of the boat and the type of anchor that you have mounted