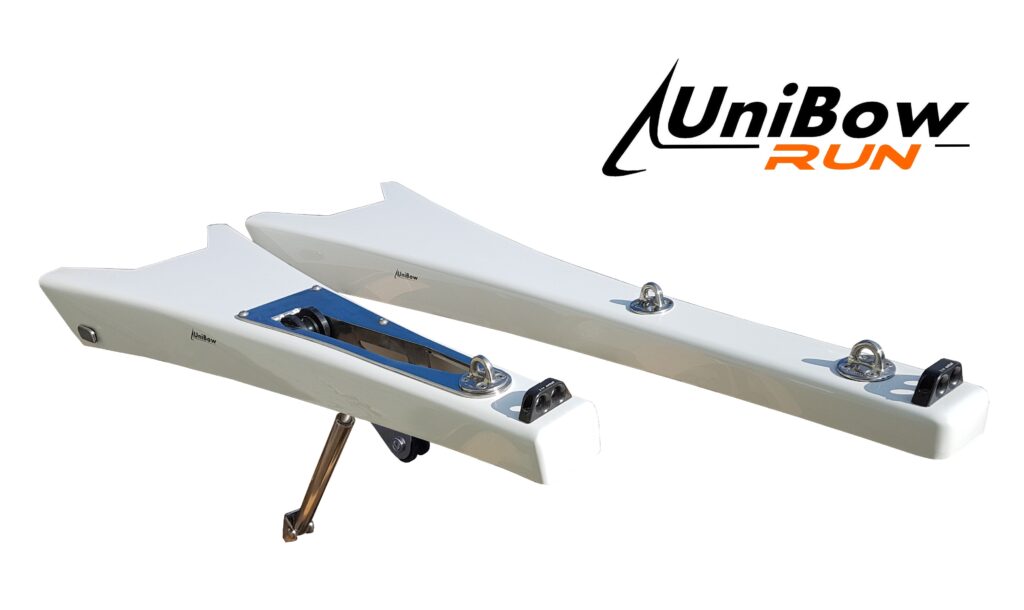 Dall'esperienza maturata con le nostre delfiniere UniBow Compass, nasce la nuova linea UniBow RUN.
Si contraddistingue per il peso estremamente contenuto, una facile installazione e un l'estetica slanciata e a filo coperta.
Particolarmente indicata per uso in regata su barche di ultima e penultima generazione, è realizzata in un unico blocco di carbonio verniciato a gelcoat bianco (nero optional).
Proposta in due taglie con larghezza differente, con carico di lavoro max. di 4000kg e in due lunghezze, con musone ancora integrato e ritenuta rigida in acciaio inox o sprovvista di musone ancora e da utilizzare con ritenuta tessile in Dyneema.
L'ancoraggio allo scafo è realizzato sfruttando l'incastro tra una coppia di perni laterali, la prua dello scafo e la ritenuta che, in questa versione, ha una funzione importante e strutturale. La ritenuta può essere in tessile nelle versioni senza musone ancora (venduta come optional) o in acciaio AISI 316 per quelle provviste di musone (di serie).
Per barche con la prua molto larga, e se la sezione S1 è a una distanza dalla prua inferiore ai 250mm è possibile richiedere allo stesso prezzo, la versione con larghezza maggiorata UBYM40
Per l'installazione di UniBow RUN è necessario che la parte della coperta verso prua, a partire da una  larghezza (S2) di 365mm per la UBY40 e 465mm per la UBYM40, sia sgombra da musone ancora, falchette, gallocce, base candelieri, golfari o altre sporgenze escludendo naturalmente la landa dello strallo e l'avvolgifiocco, anche se incassato.
Inviandoci l'apposita scheda compilata, UniBow RUN verrà fornita sagomata e personalizzata per l'installazione sulla vostra barca.A differenza delle versioni UniBow Compass, UniBow RUN ha una lunghezza fissa che non può essere personalizzata, ma è proposta in due misure differenti UBY40S la più corta e UBY40L quella con sporgenza maggiore.
Indicativamente la sporgenza oltre alla prua può essere considerata di 750mm per la versione corta e 1050mm per quella lunga.
Per determinare la sporgenza reale oltre alla prua occorre misurare la coperta della barca per determinare l'asse S2, ossia dove è larga 365mm (UBY40) o 465mm (UBYM40) e seguire la tabella sottostante.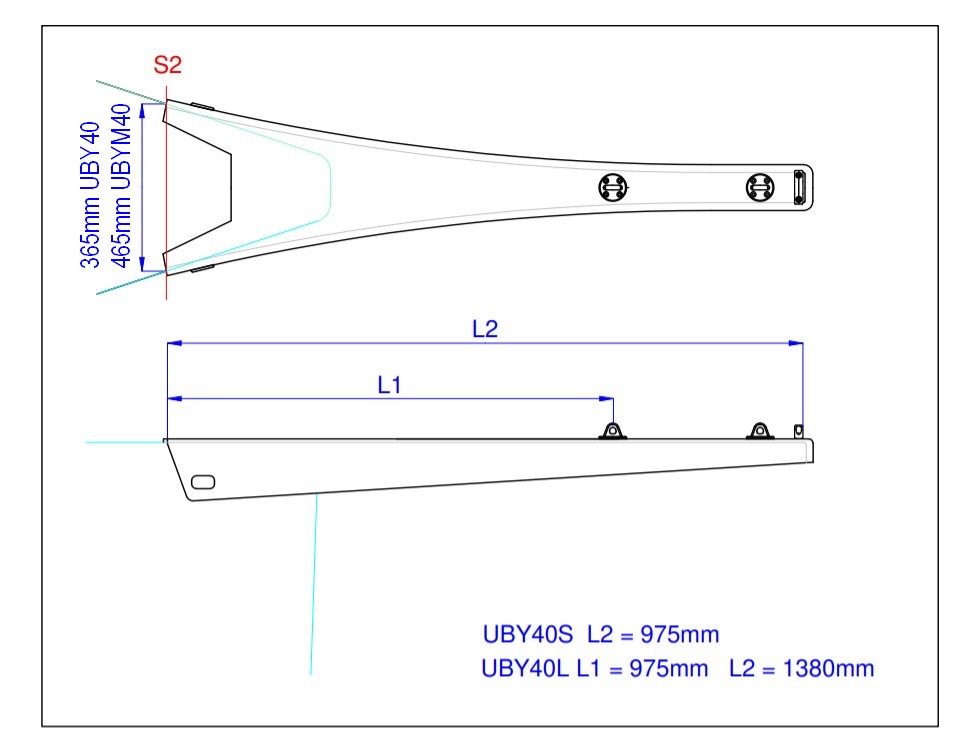 Caratteristiche tecniche
W/L max. attacco vele 4000 Kg
Peso ancora max 20 Kg
Diametro Max. catena 10mm
Materiale Carbonio unidirezionale verniciato a Gelcoat
MODELLI UniBow RUN
UBY40S versione corta senza musone ancora
acco per arricavo o code 0
Attacco inferioreAttacco doppio per gennaker in punta
Attacco per ritenuta in punta
Peso 6 kg
UBY40L   versione lunga senza musone ancora
Attacco doppio per gennaker in punta
Attacco per arricavo o bozzello in punta
Attacco inferiore per ritenuta in punta
Attacco per Code 0 a metà sporgenza
Peso 7 kg
UBY40S-ADX / UBY40S-ASX versione corta con musone ancora sul lato destro o sinistro
Attacco doppio per gennaker in punta
Attacco per arricavo o code 0
Musone ancora Inox
Tirante rigido regolabile inox
Peso 12 kg
UBY40L-ADX / UBY40L-ASX versione Lunga con musone ancora sul lato destro o sinistro
Attacco doppio per gennaker in punta
Attacco per arricavo o bozzello in punta
Attacco inferiore per ritenuta in punta
Attacco per Code 0 a metà sporgenza
Musone ancora Inox
Tirante rigido regolabile inox
Peso 14 kg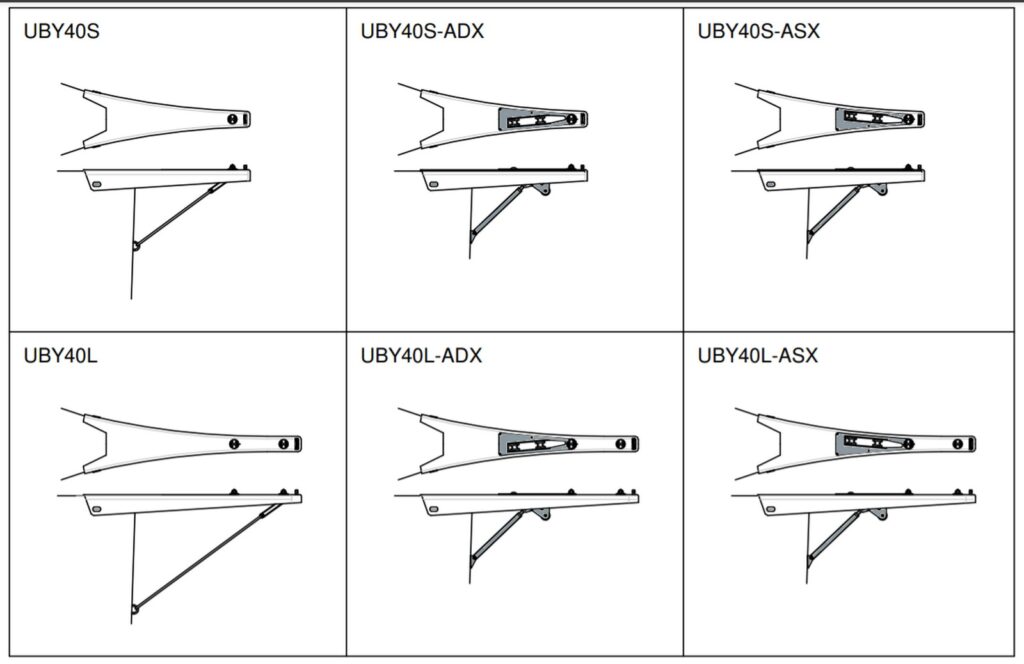 Optional
Verniciatura a gelcoat nero lucido
Ritenuta in dynnema con calza, anello alluminio, cimetta dyneema di regolazione e golfare inox
———————————————————————————————————————-
–ENGLISH
The new UniBow RUN line is born from the experience gained with our UniBow Compass bowsprit.
It stands out for its extremely low weight, easy installation and a sleek, flush-deck aesthetic.
Particularly suitable for use in racing on boats of the latest and penultimate generation, it is made of a single block of carbon lamination painted with white gelcoat (black optional).
Offered in two size with max. 4000kg W/L and in two lengths, with integrated anchor roller and rigid stainless steel restraint or without  anchor roller and to be used with Dyneema textile restraint.
Fastening to the hull is achieved by exploiting the joint between a pair of lateral pins, the bow of the hull and the tie rod, in this version, has an important and structural function. The tie rod can be in textile in the versions without anchor roller (sold as an option) or in AISI 316 steel for those equipped with anchor roller (standard).
For boats with a very wide bow, and if the S1 section is less than 250mm away from the bow, it is possible to request the version with increased width UBYM40 at the same price.

For the installation of UniBow RUN it is necessary that the part of the deck towards the bow, starting from a width is 365mm (UBY40) or 465mm (UBYM40), is free from anchor roller, toerails, cleats, pad eyes base or other protrusions, naturally excluding the chain plate of the forestay and the furling, even if through-deck.
By sending us the specific completed form, UniBow RUN will be supplied shaped and customized for installation on your boat.
Unlike the UniBow Compass versions, UniBow RUN has a fixed length that cannot be customized, but is offered in two different sizes UBY40S the shorter and UBY40L the one with greater overhang.
Indicatively, the overhang to the bow can be considered as 750mm for the short version and 1050mm for the long one.
To determine the real overhang in addition to the bow, it is necessary to measure the deck of the boat to determine the S2 axis, ie where it is 365mm wide and follow the table below.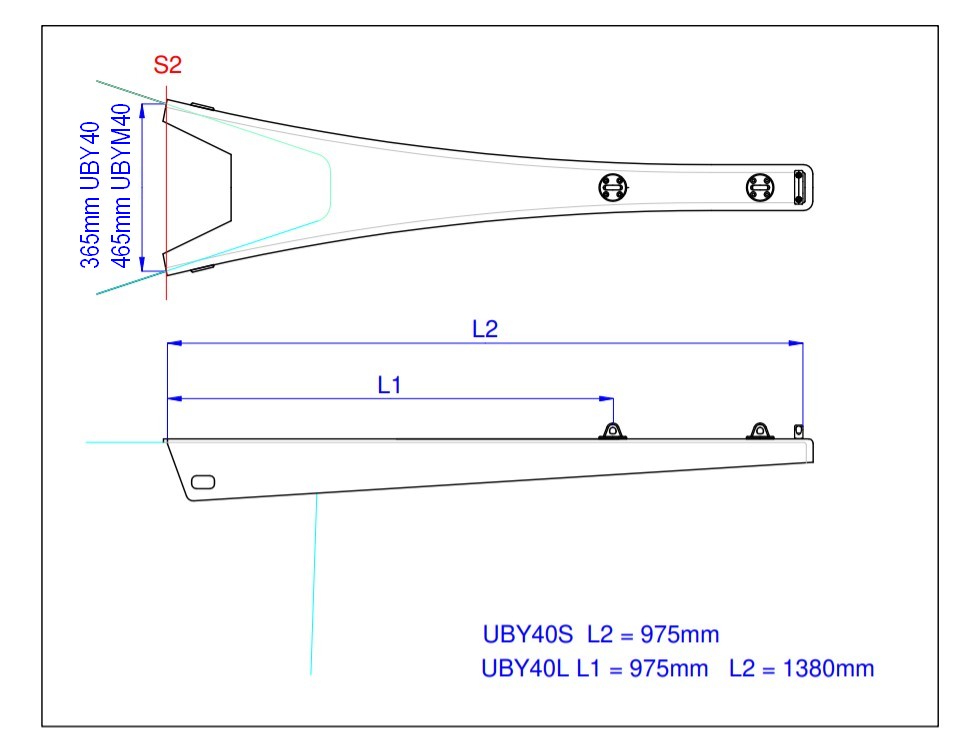 Technical features
W / L max. sails attachment 4000 Kg
Anchor weight max 20 Kg
Max. Chain diameter 10mm
Material Unidirectional carbon gelcoat painted
UniBow Run models
UBY40S short version without anchor roller
– Double attachment for gennaker at the tip
– Connection for 2:1 or Code 0
– Lower attachment for textile tie rod
Weight 6 kg
UBY40L long version without anchor roller
– Double attachment for gennaker at the tip
– Attachment for 2:1 or block
– Lower attachment for textile tie rod
– Attack for Code 0 in the middle of the overhang
Weight 7 kg
UBY40S-ADX / UBY40S-ASX short version with anchor roller on the right or left side
– Double attachment for gennaker at the tip
Connection for 2:1 or Code 0
– Stainless steel anchor roller
– Adjustable stainless steel rigid tie rod
Weight 12 kg
UBY40L-ADX / UBY40L-ASX Long version with anchor roller on the right or left side
– Double attachment for gennaker at the tip
– Attachment for 2:1 or toe block
– Lower attachment for textile tie rod
– Attack for Code 0 in the middle of the overhang
– Stainless steel anchor roller
– Adjustable stainless steel rigid tie rod
Weight 14 kg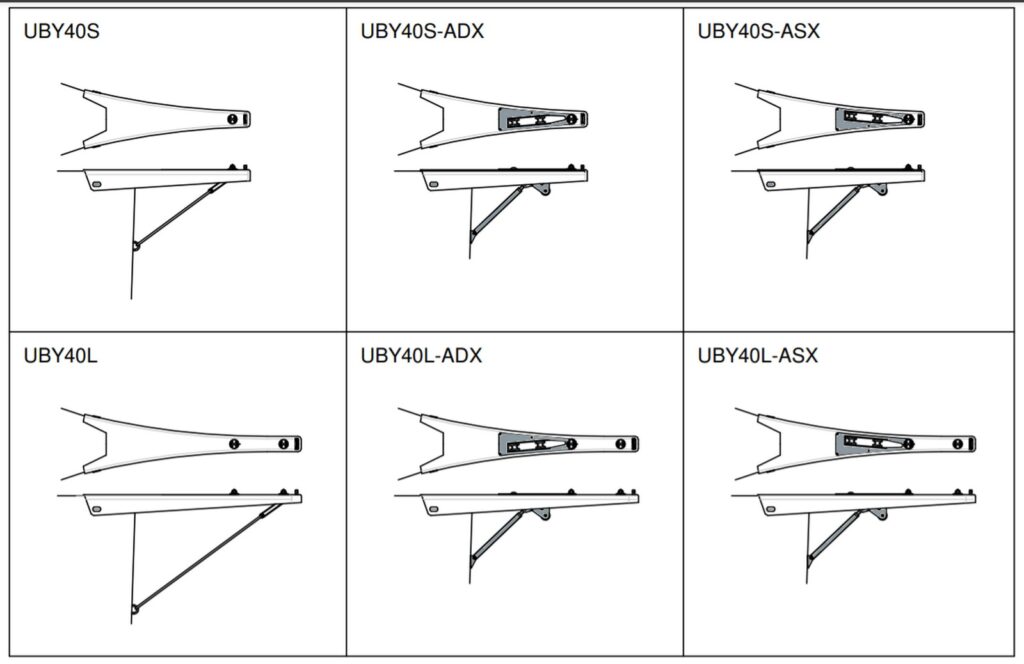 Optional
– Glossy black gelcoat painting
– Dynnema tie rod with cover, aluminum ring, dyneema adjustment line and stainless steel eyebolt